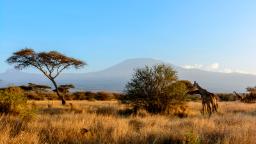 (CNN) — Climbers ascending Mount Kilimanjaro can now document their ascents in real-time on Instagram, following a recent move by Tanzanian authorities to install high-speed internet around the mountain's slopes.
The broadband service was set up by the Tanzania Telecommunications Corporation and launched Tuesday, the information ministry said.
Nnauye said it was unsafe for tourists to navigate the mountain without an internet connection.
Technology now plays a huge role in mountaineering.
Top image: A view of Mount Kilimanjaro from Satao Elerai Conservancy in Kenya. (Roger de la Harpe/Education Images/Universal Images Group/Getty Images)