CNN
 — 

Protesters on the tracks at a Paris rail station. Smoke bombs let off at Biarritz airport. Anger at French President Emmanuel Macron's pension reforms showed no sign of letting up on Tuesday as the nation saw for a 10th day of nationwide demonstrations.
Sweeping protests have paralyzed major services across the country in recent weeks over Macron's proposal to raise the retirement age for most workers from 62 to 64, in a move that has riled opposition lawmakers and trade unions.
Some 740,000 protesters joined 240 rallies held throughout France on Tuesday, with more than 93,000 demonstrators filling the streets of the capital alone, according to the French Interior Ministry. One of the country's major trade unions, the General Confederation of Labour (CGT), estimated a total nearly five times the ministry's figure for Paris – 450,000 protesters, according to CNN affiliate BFMTV.
The number of demonstrators is short of the record-breaking protest on March 7, which saw nearly 1.3 million people take to the streets, according to police figures – the highest turnout for protests against the proposed pension reforms.
A CNN team on the ground in Paris on Tuesday saw some protesters hurling objects at the police, including rocks and bottles, while others lit fireworks and set garbage bins alight, resulting in at least two large blazes. Police charged and fired tear gas into crowds, and were still trying to disperse protesters into the evening.
Videos on social media verified by CNN showed smoke bombs being let off by protesters outside the entrance of Biarritz Airport, and the boarding area of the terminal, before an evacuation announcement sounded over the speakers. Further north, protesters walked on the train tracks at Paris' Gare de Lyon railway station, according to CNN affiliate BFM.
Earlier this month, scenes emerged of waste piles littering Parisian neighborhoods, as massive strikes against the reforms affected the city's trash pickup services. However, the CGT union said earlier that trash collectors will suspend their strike from Wednesday.
Meanwhile, Buckingham Palace on Friday confirmed that King Charles III and the Queen Consort's state visit to France had been postponed as a result of the strikes.
France continues to welcome tourists and "life goes on as normal" despite strikes and protests French government spokesman Olivier Véran told CNN on Tuesday. Speaking at a press conference in Paris, Véran added that King Charles' Paris trip was postponed so that he could visit "under better circumstances."
"I don't want people to think that France is not capable of welcoming tourists. People both here and abroad shouldn't worry, despite the protests and strikes, life goes on as normal, as French people living here can clearly see," Véran said.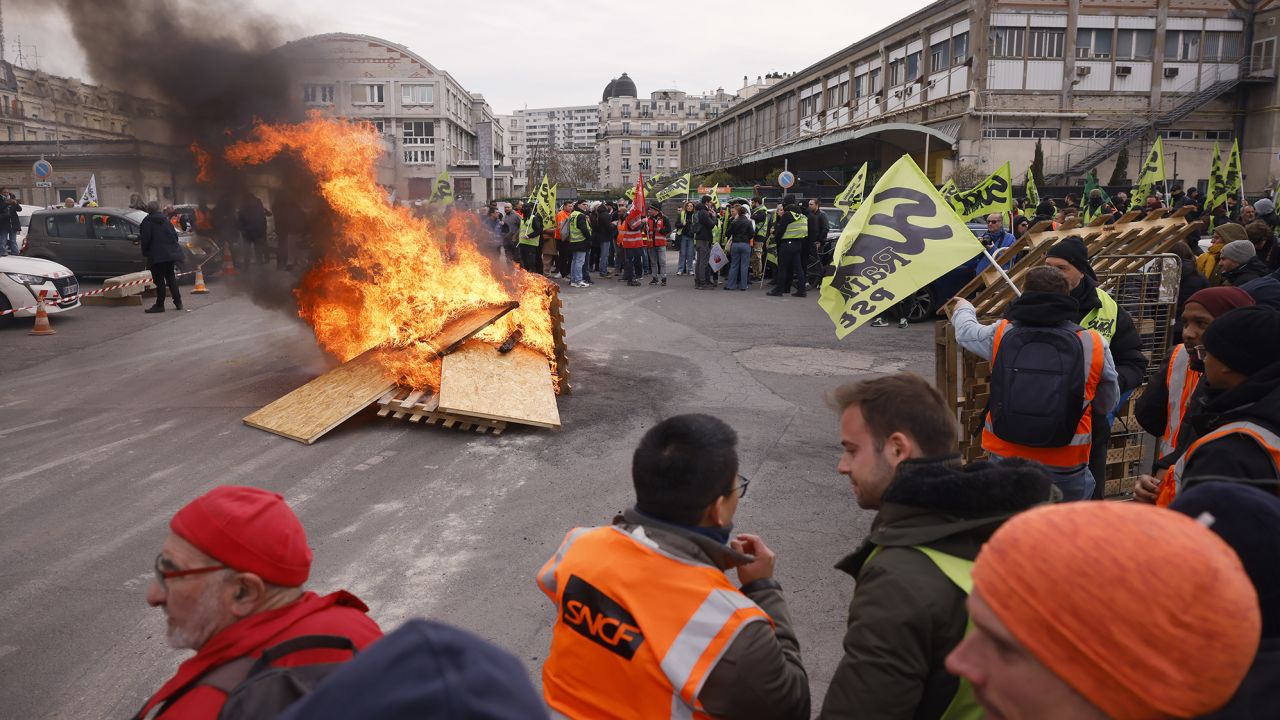 The government pressed on with the hugely unpopular bill without a vote last week, after two failed no-confidence votes cleared the way for the pension reforms. It says that relying on the working population to pay for a growing age group of retirees is no longer fit for purpose.
Blocking airports has been a tactic used by anti-pension reform protesters nationwide, with terminal 1 at Charles de Gaulle airport, just north of Paris, also being cut off on Thursday morning.
At least four groups can be identified in the footage based on their insignia, including a local Basque trade union and two national associations – the CGT Departmental Union of Pyrénées-Atlantiques and the Fédération syndicale unitaire (FSU).
The FSU – which streamed a live video from Tuesday's protest inside the airport – is one of France's main trade unions in its education sector, representing "162,000 members, of whom 88% are teachers," according to its website.
The CGT is one of five major trade unions nationwide, with branches across the country.
CNN has attempted to contact both the FSU and CGT and cannot independently confirm how many people were present at the airport protest or how the event unfolded.
Union leaders called on President Macron to put the controversial pension reform on hold, as clashes between police and protesters ramped up against a backdrop of rising street violence.
Philippe Martinez, the head of the CGT union, told CNN affiliate BFM-TV on Tuesday that Macron should "suspend his project and appoint a mediator."
A senior official at CFDT, one of the unions leading the protests, told CNN he is "in favor of dialogue."
Speaking about the widespread protests in France, Maher Tekaya said: "We don't believe that it's a matter of revolution, but there is a kind of democratic problem and the only solution is to sit around the table and to have a constructive dialogue on how to find a way out of the situation."
Protests have become more violent since Macron rammed the legislation through the French National Assembly, using a constitutional clause that allows the government to bypass a vote.
Security forces threw stun grenades in an effort to disperse protests in Paris on Tuesday, as demonstrators retaliated with fireworks.
"It has also … touched off a lot more anger on the streets of Paris, and elsewhere in the country," CNN's Sam Kiley told Becky Anderson on Connect the World.
"The unions are worried about the increasing levels and potential for violence here. They call for dialogue with the government. The government has agreed on dialogue but no dialogue over changing the direction in terms of their policy, but they are, I think, both sides trying to de-escalate."
In the last fortnight there have been hundreds of acts of vandalism against public buildings and political offices, as well as over 2,000 incidents of arson, according to Interior Minister Gérald Darmanin. He said that there are currently 17 investigations by the General Inspectorate of the National Police that concern the pension reform demonstrations.
Darmanin said French authorities deployed an unprecedented 13,000 police officers across the country on Tuesday, including 5,500 officers in the capital Paris, adding that his ministry "anticipates high risks to the public order" during the protests. He said that "more than 1,000 radical individuals" will possibly join the marches organized in the capital and in other cities.
The French Defender of Rights – an independent government administrative authority to defend individual rights – called for a "de-escalation" in the violence on the part of police and protesters.
"I condemn any act of violence, and I have a thought for all the victims, whether they are the demonstrators or the security forces," said Claire Hédon, the Defender of Rights, said in an interview with Le Monde on Tuesday.
"It is also important to say that the freedom to demonstrate is a fundamental principle of our rule of law. The first objective of policing is also this respect for the freedom to demonstrate with, as a corollary, the protection and safety of people.
"The testimonies and images that reach us show unacceptable situations."
"The use of force can only be done if necessary, and in a proportionate manner. I am very worried about what I observe in the escalation of violence. And we will need a de-escalation. It is the responsibility of the state," she added.