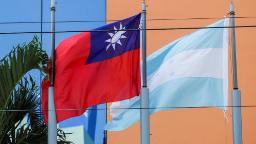 Hong Kong
CNN
 — 

Taiwan announced Thursday it will recall its ambassador to Honduras as ties between the two worsen, with the Central American nation preparing to switch diplomatic recognition from the self-governing island to China.
In a statement, Taiwan's foreign ministry said it had recalled the ambassador to "express our strong dissatisfaction" over Honduras sending its foreign minister and a delegation to Beijing this week.
The move "ignores the traditional friendship" between Honduras and Taiwan, which stretches back more than 80 years, and "seriously hurts the feelings of the Taiwan government and people," said the statement.
It added that Taiwan had "repeatedly reminded the Honduran government of the risk of trusting China's commitment to establishing diplomatic relations."
Honduran President Xiomara Castro announced on March 15 that the country will establish diplomatic ties with China – a move that all but spells the end of its current relationship with Taiwan.
China's ruling Communist Party has adopted the One China Policy as a pre-requisite for diplomatic relationships, requiring countries cut formal ties with Taiwan, which it claims as a part of its territory despite having never controlled it.
Only 14 countries, including Honduras, have official relations with Taiwan – with several countries in Central America and the Pacific having switched recognition to China in recent years.
El Salvador, Burkina Faso and the Dominican Republic all cut ties with Taiwan in 2018. The following year, Kiribati and the Solomon Islands followed suit.
Last week, the Honduran foreign minister highlighted China's economic standing as "second only to the United States," and said he hoped diplomatic ties would bring investment and trade opportunities.
These economic benefits are particularly appealing to developing Latin American countries – and difficult for Taiwan or its supporters to counter, said Parsifal D'Sola, founder and director of the ABF China-Latin America Research Center.
"This is basically something that Taiwan and the US, frankly, cannot compete with," D'Sola said. "When you talk about investment in infrastructure, investment in green development, these are the types of foreign direct investments that these countries are looking for in the international arena."
He added that China is "gaining ground" in these regions because of a lack of options – for instance, economic assistance from the United States or European Union.
C
hina has welcomed Castro's announcement, with Chinese Foreign Ministry spokesperson Wang Wenbin saying Honduras was making the "right choice" that was "in line with the trend of historical development and progress of the times."
Meanwhile, Taiwan's foreign minister Joseph Wu warned Honduras not to "fall into China's trap," and said it was still working to maintain bilateral relations. It also met with Honduras' ambassador to Taiwan, Harold Burgos, to express "grave concern."
But by early Thursday, Wu admitted the situation was not optimistic.
"They have asked for a high price from us," Wu told reporters in parliament, referring to the Honduran government. "Because we don't compete with China in dollar diplomacy, so it has entered a very difficult stage. But all the colleagues at our embassy in Honduras are working hard and will work hard until the last moment."
Wu added that China has been working to suppress Taiwan internationally, and said Taiwan would continue to expand its international presence.